For some reason I wanted to do a recap job of my vintage quadraphonic amplifier, the JVC MCA-V7E that you see above. This unit is actually in very good shape, so the reason for me to do this is also unclear to me, really! But sometimes my ways are inscrutable.
recap
A recap job means that you replace all the old, worn out electrolytic capacitors that are >40years old with new ones, preferably audio-grade types. Electrolytic capacitors are known to dry out when they get older. And then they lose their characteristics. Worst case is that they short out, or that they start acting as a coil or as a resistor. These are all things that you do not want in your amplifier. Or in any other device, for that matter. Also, the original caps were never the same quality as the ones that you can buy today just because manufacturing, tolerance and materials have become so much better in 40 years. So in theory this should enhance the performance of the unit.
Also, it is not a question if an electolytic caps will fail, but when. So after the recap your equipment will be good for at least another 40 years, but probably a whole lot longer.
Panasonic FC series
If you are gonna do it, you want to do it good. Then you go for the audio-grade caps.


These black caps are available at sometimes crazy prices of several euros a piece, but there is a very good capacitor at a very reasonable price. So all audio enthousiasts like me that do not have a money tree in the backyard use these FC series caps, as you will probably need a good bunch of them. In this case I used around 50-60 of them, but I have not counted them exactly.  I ordered them from farnell.nl  they have the complete range of values at good prices. The only problem is the minimum order amount of 50 euros.
The works
This is what the unit looked like before I started: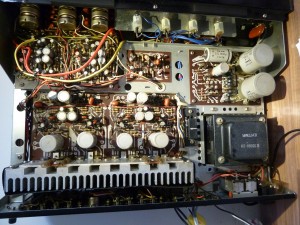 Basically all the grey capacitors that you see here had to be replaced. This consists of the Power Supply board, the tone/preamp board, the mainamp board, and the phono board which is located on the underside
I started with the PSU (power supply). These contained some big ones.
Note the difference in size. The new ones are a lot smaller. They have the same value nevertheless. After I had done the power supply, and the amplifier still worked (!!) 🙂 I tackled the phono board.
And then the preamp.
And then the main amp:
After all the works was done, it was time to turn the power on. Exiting! Nothing exploded and no component was getting very hot, so I connected an input signal on the four inputs and turned up the volume. Channel 3 was not working. Hmmm. I remembered a problem I had when removing the large capacitor from the third channel, when the copper strip had come loose from the board. On closer examination I saw that it indeed was not making contact properly anymore, so that was easily fixed. Now the 3rd channel worked ok!
The sound from the 'new' amplifier is very crisp, someone called it 'clean'. I think that is an apt description. I turned the JVC up quite a bit, and experienced no problems. So I am very happy with that.
Testing & measuring
Next up is a bit of testing and especially measuring. Because I wanted to test some new type of transistors, I have installed them in the channel 2 pre-amp. I want to see how they stack up against the original ones. I am especially interested in distortion and overall performance. If they don't perform well, I will re-install the old ones. Maybe the amp needs to be biased as well, but I'm not sure yet.
I also turned up the calibration on the meters quite a bit, so now the needles are showing signal even at normal volume levels, that was not so before. Previously they just lingered around in the left corner doing mostly nothing.
I have provided here a simple drawing of the electrolytics on both amplifier boards for your convenience, if you should decide to do the recapping as well. Good luck!