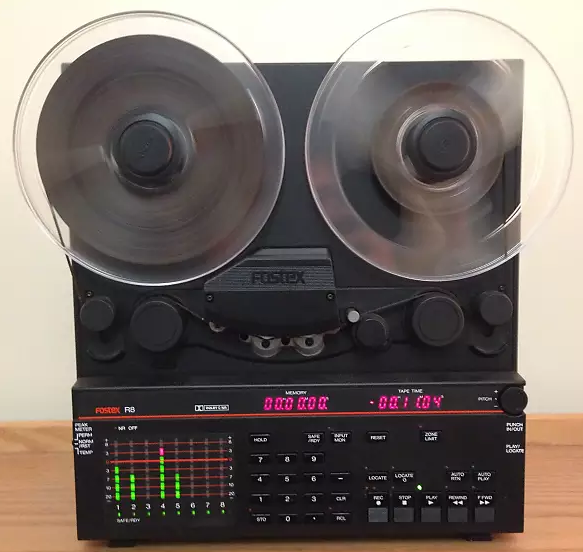 So I could purchase a Fostex R8 cheap. The unit was supposed to be in a fairly good working condition, maybe a few scratches on the front. The price was that good that I could not walk away from it. Besides, I always wanted a Fostex. Just because.
Overview
This deck is squeezing 8 audio tracks onto a standard 1/4 inch tape. To put that into perspective, normal home audio deck use 4 tracks (2 -> and 2 <-) and the professional world uses just 2 tracks onto that same width of tape. So the tracks are super small. To compensate for the loss of fidelity and the added tape hiss the speed at which the tape runs is fixed at 38 cm/s or 15 IPS (cassettedecks run at 4,75 cm/s). Also, the deck has Dolby C. Dolby C comes from the cassette world, it is an enhanced version of the omnipresent dolby B and it works quite well on this deck. But I'm getting ahead of myself.
The deck, being one of the very latest generation of tape deck being made, is heavily computerized. Not for the calibration electronics, like the Studer A810 and all Studer models beyond that, but in the controls. There are a LOT of possibilities and functions that I have not even tried tried yet.
When the deck is turned on, the display shows a scrolling text of 'FOSTEX'.
First impressions
When I got the deck I first cleaned the outside. I like to work on a clean deck. This one was not dirty, but sometimes you can get a lot of dirt off decks you collect. After that, I cleaned the heads and the tape path in general. I noticed the very plasticy rollers and the flimsy arms. Also, the roller covers were coming of way too easy. Hmmm, not so good.
I put a tape on and the deck played. So far, so good. Rewind, fast forward, no problem. The capstan was noisy however. I played around with it and decided to try recording. I was NOT disappointed with the sound quality. I was surprised how well it sounded on playback. I tried several channels and it seemed ok. The dolby C noise reduction really took away tape hiss in quiet passages and in between tracks. Just like on cassette decks.
Capstan wheel
After a while I noticed that the tape speed was dropping a little. It was ok after a while, but just after hitting PLAY it was not good.
And after a little more testing, the tape was not moving at all anymore. Even pressing the pinchroller to the capstan did not work. I noticed the capstan was not spinning anymore. When in STOP, the capstan would slowly start spinning again. Only to come to a quick stop once I pressed PLAY. But I could hear the capstan motor spinning constantly. Weird.
I had already ordered a new capstan belt, as is almost always necessary when old rubber belts are involved, so once that had arrived I put it on. But, unfortunately, that was not a solution. I found out that the wheel attached to the capstan motor shaft was slipping. It is a simple plastic wheel that had come loose from the shaft, probably because it had worked itself loose after being clamped on in the past. But now the wheel was just stationary and the shaft of the motor was spinning because of too much room inside. (blowfly pun intended)
TO BE CONTINUED