So, the inevitable has happened……….again.
I have bought myself another piece of studio equipment to live next to my Studer. I got myself an Otari MX-55N-M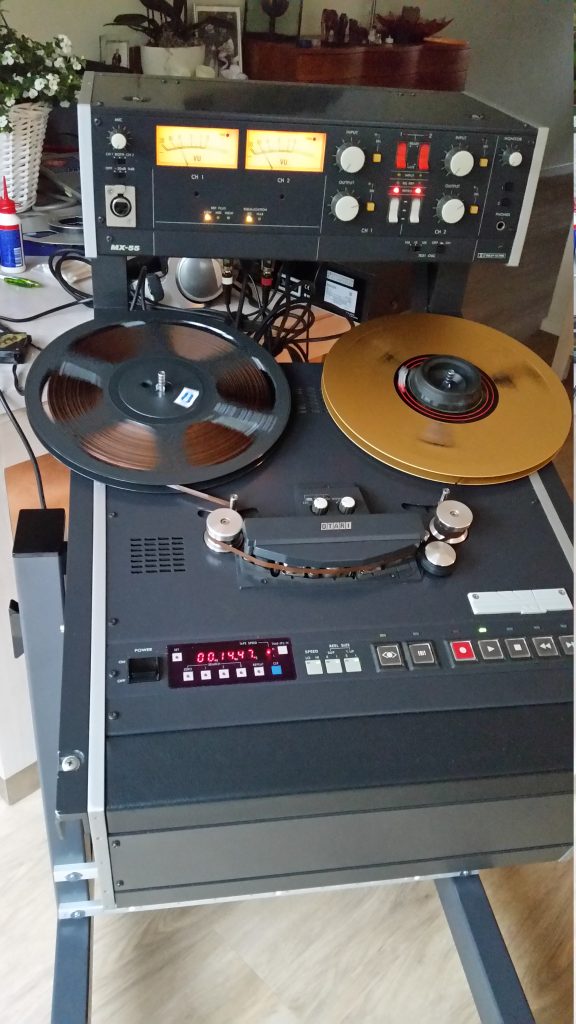 This one I discovered in Belgium. Yes, down there. It came originally from a guy with a small studio who sold all his stuff, but I got it from someone who bought some records from that guy and got the Otari as a side catch.
Getting it from Belgium required a road trip. In about 2,5 hours we were there, it was actually not too far across the border. The place was a 2nd hand vinyl shop with a lot of records, but it had CD's and DVD's too. Oh, and comic-books, like Suske en Wiske.
The Otari was all dusty and just a little bit dirty, but not much. I brought a test tape that I had recorded with my Studer, as this is also a 2-track studio machine. I loaded the tape, plugged in my headphones and after fiddling with the knobs (how to put this thing in playback mode, and how to get signal from it) I got some sound from it and boy, did it sound good! Within a few minutes I knew that the sale was going to be made. I just had to do a quick check for any defects that I could find and if they would be a showstopper. I could not find any.
So then came the problem of transport. My car has a loading space with a flat floor that is 70 cm high and 100 cm wide. But the machine is with a cart and wheels and a meter bridge, as you can see from the pictures. We measured the Otari and thought: well, I may fit just laying on it's back. And it did. So I didn't have to dismantle the meterbridge or take the machine from the cart. That was good.
After we got home I cleaned it up. From beneath the layer of dust came a beautiful and almost pristine looking deck that has no marks on it of prior use. I started to play with it and explore it's possibilities.
the deck is tilt-able in various positions.
it has a selection switch for 2 standards: NAB and IEC.
it has another 3-way switch for selection of the reference fluxivity. I found that mine is calibrated to the following setting:

LOW – 250 nWb/m
MED – 320 nWb/m
HIGH – I don't know, I haven't got a calibration tape in that range. It will probably be around 510 nWb/m.

high and low speed is now set to 19 & 38, but can be adjusted to 9,5 and 19.
has a built-in oscillator with test tones of 0,1-1-10 kHz for bias calibration.
reel size is selectable for LEFT and RIGHT reel separately.
Slack tape can be picked up by pressing STOP.
in- and outputs are fully XLR and +4dBu.
the speed is adjustable from veeeerrryyy sllllooowww to very fast.
Startup is very quick, 1-2 cm at 38 cm/s and its up to speed.
Digital tape counter hms with goto and 3 memory positions.
Recording and playback levels are adjustable at Standard Reference Level (SRL) or user controlled with a knob.
Tapedump function, where the takeup reel is switched off so the tape is dumped.
Button for listening (cue-ing) while spooling.
This is what I found so far. It came with a remote control with 10 meter cable, 2 Otari NAB adapters (which are very well built), and 2 aluminium reels.
I noticed that the left tape roller is making more noise than I would have liked, but it works ok and someday I will replace it. The heads are ok.
I am very fond of the smooth tape transport and the overall robustness of the machine. This Otari really is meant for heavy duty studio use.
I have not measured anything except for the fluxivity levels yet, but I expect the results like wow/flutter, distortion, frequency response etc. etc. will be very good. This will make a nice younger brother to the Studer.
Oh and by the way………..
I am looking for the manual, service manual and schematics for this MX-55 N-M.
I have found manuals for other models of the MX-55 family, but not specifically for the N-M. 
I found some manuals online, but they only contained the first two chapters.
So, if anyone know of these manuals, either in printed or electronic form, I would be happy to get hold of one. Please leave a message in the comment section.