Amplifier JVC MCA-V7
Jump to navigation
Jump to search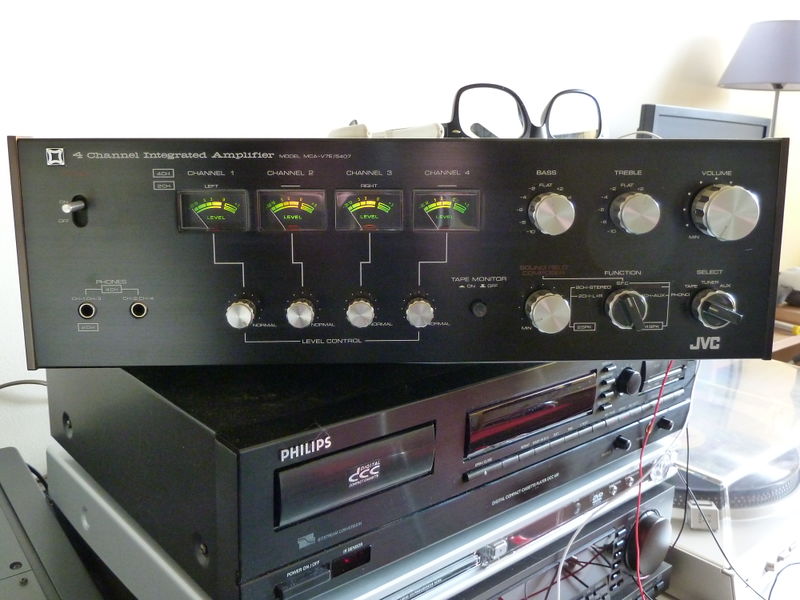 Around early 1970
(japanses translation)
Commentary
4ch Amplifier equipped with a Sound Field Composer. I am equipped with a Sound Field Composer circuit where you can enjoy the atmosphere of 4ch in 2ch source. By a device to reproduce the pseudo 4ch, is output from the speakers of another reverberation only component that is included in the 2ch source, this circuit is aimed to reproduce the sense of reality.
It uses a 2ch-4ch complementary circuit by BTL Type of actuation in the MCA-V7, to drive each speaker in the SEPP circuit four sets 4ch playback, I get a high-powered by BTL connection 2ch time. I have adopted a quasi-complementary ITL · OTL circuit to circuit configuration. In addition, with the aim of noise reduction by adopting a low-noise silicon transistor. Equalizer circuit has become a two-stage, and is stopping the transistor noise by using a PNP transistor in the first stage. 4ch and two inputs, it is equipped with the 4ch recording and playback terminal.
It is equipped with an pre-out main-in terminal of 4ch, it can be used independently of the main amplifier and preamplifier.
Model
4ch Amplifier
<Power amplifier section>
Circuit system
SEPP-OTL circuit, BTL switchable
Music Power
45W +45 W (8Ω)
Effective output
12.5W × 4 (8ohms) 28W +28 W (8ohms)
Harmonic distortion
0.08% (12.5W)
Intermodulation distortion
0.2% (12.5W)
Power Band Width
30Hz ~ 50kHz-3dB
Frequency characteristic
20Hz ~ 100kHz ± 0.5dB
SN ratio
90dB or more
Input sensitivity / impedance
0.6V/50kΩ
Load impedance
8Ω ~ 16Ω
Damping factor
50 (8Ω)
<Preamplifier>
Input sensitivity / impedance
Phono: 3MV/50keiomega Tuner, Aux, Tape play, DIN: 50MV/100keiomega
Phono maximum permissible input
100mV
Tone control
4ch tone control, NF type Bass: ± 10 dB (100 Hz) Treble: ± 10 dB (10 kHz)
Output Impedance
Pre out: 0.5V (nominal), 5V (maximum) / 1.2 kW Rec out: 36MV/4.7Keiomega DIN: 36MV/80keiomega
Frequency characteristic
Phono: RIAA ± 0.5 within 20Hz ~ 40kHz +0-1.5dB: Aux
Harmonic distortion
0.1% (1kHz, 2.5V)
Intermodulation distortion (60Hz: 70kHz = 4:1)
0.2% (2.5V)
SN ratio (IHF)
Phono: 80dB Aux: 85dB
<More>
Input terminal
Phono, Tuner, Aux, Tape play, 4CH Aux, 4CH Disc, Main in
Output terminal
Pre out, Rec out, SP out
DIN terminal
1 system
Attached circuit
Tape monitor Sound Field Composer
The semiconductor used
Transistor: 45 pieces Diode: 24
Power outlets
Power switch interlock: Dual power switch unsynchronized: 1 system
Power
AC100V, 50Hz/60Hz
External dimensions
138 × depth 296mm height width 420 ×
Weight
10kg